CZ4A LANCER EVO10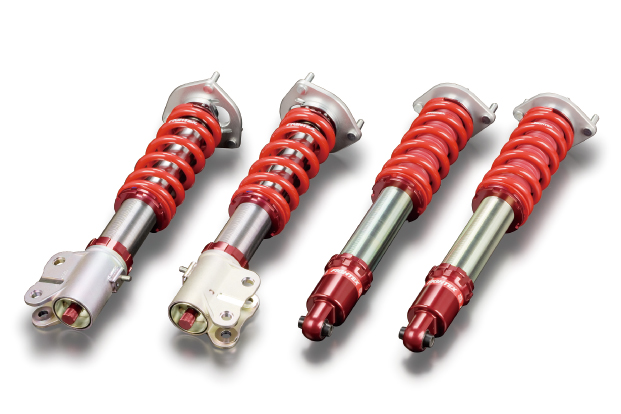 TypeDA
*Click the damper images below to see larger pictures.
CZ4A FIGHTEX Damper KIT

Type
Kit contents
Damper + Spring + Pillow ball upper mount
Model
CZ4A (LANCER EVO10)
Part No.
51520-CZ4-000
51530-CZ4-000
Price (KIT)
¥263,000
¥283,000
Price (damper only)
51522-CZ4-000 ¥195,000
51532-CZ4-000 ¥215,000
Price (damper + spring)
51521-CZ4-000 ¥213,000
51531-CZ4-000 ¥233,000
Supplied spring rate
[kgf/mm-mm]
Front
12K-200
14K-200
Rear
10K-200
12K-200
Adjustable height range to standard height
Front
approx. +20mm ~ -35mm
Rear
approx. +20mm ~ -30mm
Design
F: Up side down design / R: Standard design
Spring rate can be changed at the time of order (A price is the same).
Spring rate

kgf/mm

(4, 5, 6, 7, 8, 9, 10, 11, 12, 14, 16, 18, 20, 22)
-Damping force can be changed at the time of order. (Additional charge ¥20,000 ~ /set)


Damper KIT contents: Damper, main spring, pillow-ball upper mount, spring upper seat, spring lower seat, lock seat, dust boot (rear), car height adjustment wrench, damping force adjustment wrench, instruction manual.


Note: Basically Fightex damper is designed to be based on the standard upper mount.

When pillow-ball upper mount kits are not available, the spring upper seat for the standard upper mount is provided.
---