FD2 CIVIC TypeR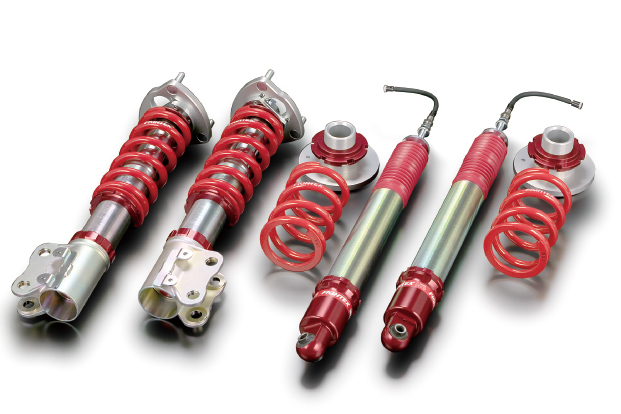 Type DA
*Click the damper images below to see larger pictures.
FD2 FIGHTEX Damper KIT

Type


Kit contents
Damper + Spring + Pillow-ball upper Mount
Model
FD2 (CIVIC TypeR)
Part No.
51520-FD2-000
51540-FD2-000
Price (KIT)
¥278,000
¥422,000~
*Please ask

Option

Pillow-ball bush (R ¥10,000)



Spring seat spacer ID70 20mm up
(FD2:Rear/AK12:Rear) ¥6,500/each
51412-020-048-70
Supplied spring rate
[kgf/mm-mm]
Front
10K-200
10K-200
Rear
10K-140

(ID70mm)

10K-140

(ID70mm)

Adjustable height range to standard height
Front
approx. -5mm ~ -50mm
Rear
approx. -20mm ~ -50mm
Design
F:Upside down design / R:Standard design
Remarks
Normal upper mount is unavailable.
*The car height adjustment unit is included for rear spring position.


*Require modification to the rear spring seat rubber.


*Rear springs ID:70.
Spring rate can be changed at the time of order (A price is the same).
ID60 - Spring rate

kgf/mm

(4, 5, 6, 7, 8, 9, 10, 11, 12, 14, 16, 18, 20, 22)
ID70 - Spring rate

kgf/mm

(6, 8, 10, 12, 14, 16)
-Damping force can be changed at the time of order. (Additional charge ¥20,000 ~ /set)


Damper KIT contents: Damper, main spring, car height adjustment upper unit (rear), pillow-ball upper mount (front), spring upper seat, spring lower seat, lock seat, dust boot, car height adjustment wrench, damping force adjustment wrench, instruction manual.

---