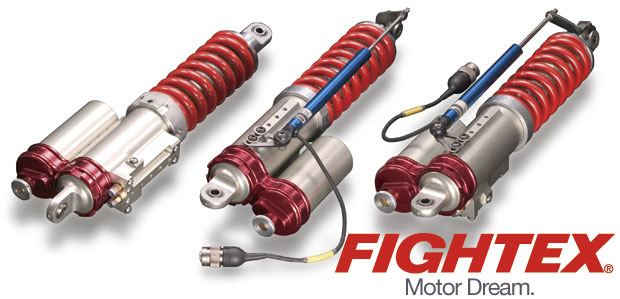 Seven Types of Damper Designed for All Tastes.
18 Steps Damping Force Adjustment
The standard Fightex Damper.

The fundamental parameters, such as comfort and stability were perused so that both impressive handling could be met along with retaining the comfort that is required for street use. The FS has acquired a large amount of data and know-how from feedback from various fields.
Separate tank type. Based on the FS type, but with independent bump and rebound 2 step tuning. Giving a wider range of adjustment.

Generally called piggy back type or remote tank type. Featuring independent bump and rebound adjustment not found on the FS type. Precise adjustment is the main advantage of the separate tank type. Maintenance is also easier.
Adjustable bottom brackets. The dual adjustable type allows quick and easy adjustment of the total length.

The total length of the damper can be tuned via the bottom bracket. The car ride height can be adjusted without touching the spring pre-load. Helping to find the delicate balance of traction and grip, through the various independent parameters of ride height, spring pre load and rebound stroke lengths.
Dual adjustment Gymkhana spec.

Designed for Gymkhana use only. 18 step damping force adjustment + full length adjustment. Designed for all the forms of Gymkhana found in Japan, the DA-G allows the car to be set up for the various conditions found at the track suck as weather and track surface. Drivers in the Japan championship use the adjustability to continually test and fine tune to find that winning advantage. The adjustability also allows you to continually get the best out of the latest tire compounds.
The ultimate performer, incorporating advantages of both the ST and DA types.

Featuring independent bump and rebound 18 step tuning along with adjustable bottom bracket for full length adjustment independent of spring preload. For the ultimate performance.
Expert Gymkhana. For Gymkhana only.

All the features of the EX, but designed specifically for the Gymkhana course.
N1 Race exclusively designed for the circuit.

Designed to make the most out of the racing tire and the racing circuit conditions for maximum performance. Not suitable for anything other than a racing circuit.

---