ZZE122
COROLLA FIELDER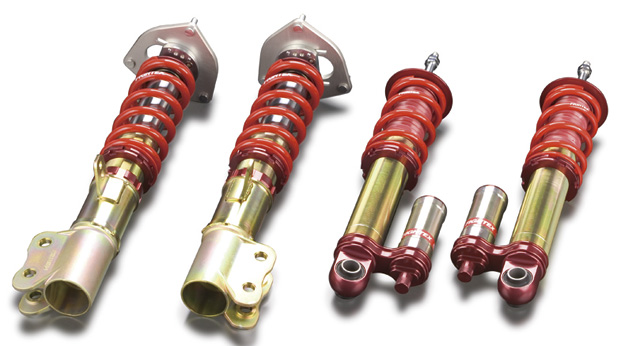 ZZE122 FIGHTEX Damper KIT

Type


Kit contents
Damper + Spring + Front pillow ball upper mount
Model
ZZE122 (COROLLA FIELDER)
Part No.
51520-ZZE-000
Price (KIT)
¥288,000~
*Please ask
Price (damper only)
51522-ZZE-000
¥245,000~
*Please ask
Price (damper + spring)
51521-ZZE-000
¥263,000~
*Please ask
Supplied spring rate
[kgf/mm-mm]
Front
7K-200
Rear
4K-200
Design
F: Up side down design / R: Standard design
Rear dampers have no adjustable bracket for ride height control. Rear damper design has independent bump and rebound with separate tank design. Original upper mount requred.
Spring rate can be changed at the time of order (A price is the same).
Spring rate

kgf/mm

(4, 5, 6, 7, 8, 9, 10, 11, 12, 14, 16, 18, 20, 22)
-Damping force can be changed at the time of order. (Additional charge ¥20,000 ~ /set)


Damper KIT contents: Damper, main spring, front pillow-ball upper mount, spring upper seat, spring lower seat, lock seat, dust boot (rear), car height adjustment wrench, damping force adjustment wrench, instruction manual.


Note: Basically Fightex damper is designed to be based on the standard upper mount.

When pillow-ball upper mount kits are not available, the spring upper seat for the standard upper mount is provided.
---