Over 5,000rpm, VTEC KILLER CAM developed only for Racing.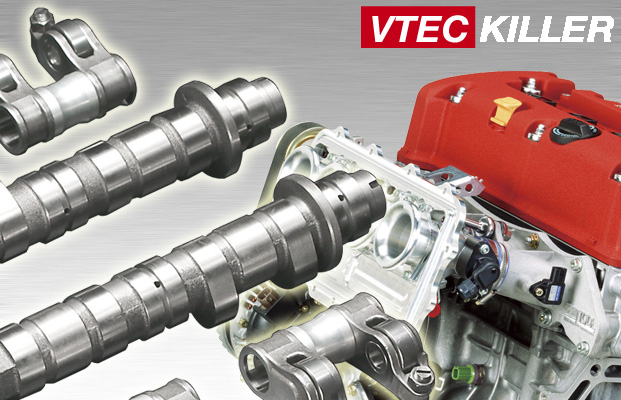 ---

VTEC Killer High Power Profile Camshaft
Design
-The primary and secondary lobes are designed to be the same size.
-The diameter of the main shaft has been made more uniform in size. This gives you a cam shaft that has increased rigidity with improved reliability and more accurate valve timing.
-Optimized surface treatment designed to prevent wear, sticking as well as helping in the early stages of running in.

Characteristics
-The mid rocker cam is removed & both pins are changed, reducing the valve train mass, for better response.
-Disabling the VTEC system removes fluctuations in oil pressure system, securing a reliable oil feed to all the main moving components.
*Lost motion valve should be removed.
*Should be used inconjunction with quad throttle(TODA) bodies for best effect.



B16A/B16 B/ B18C VTEC killer high power profile camshaft

C30A/C32B/TODA C35B VTEC killer high power profile camshaft

F20C VTEC killer high power profile camshaft

K20A VTEC killer high power profile camshaft
---
---